tri axles Vacuum Sewage Tank Trailer 28000L for export - Hubei Dong Runze Special Vehicle Equipment Co., Ltd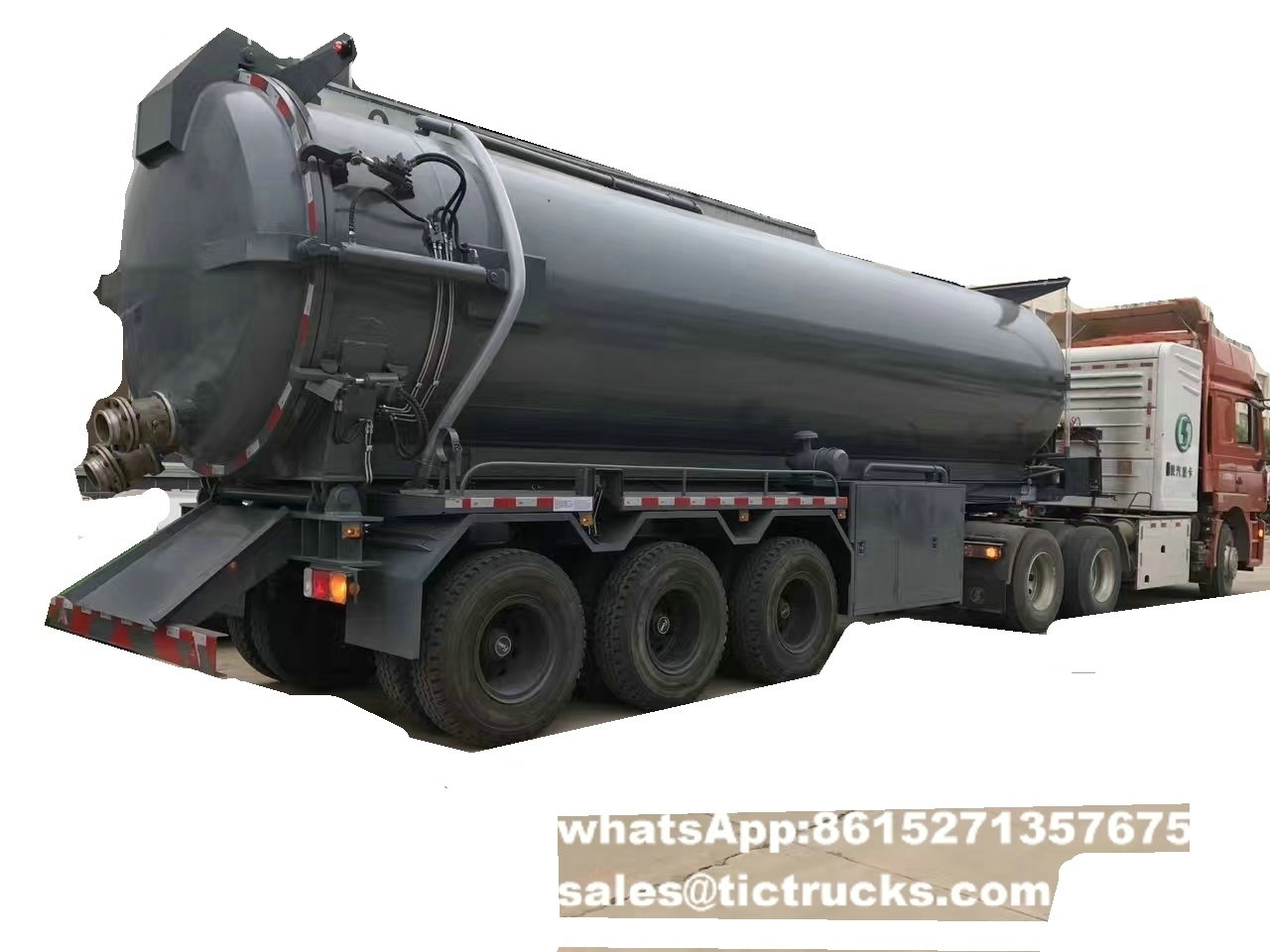 sewage vacuum tank trailer
is Suitable for suction,transportation and dumping soil and mud from various sewer man-hole,oil field,water wells and sediment.It is necessary tool for city sanitation department,waste processing company,big factory……,it can help to clean the sewer undergroud,clean the sludge in the river around city, it also can help big factory to clean the greasy dirt and waste water.
Sewage vacuum tank trailer
sewage suction trailer,Vacuum tank trailer
tank load 30000L
FUWA 2axles,or BPW,JOST Leg,WABCO ABS
self-priming sewage pump
2axles Vacuum Sewage Suction Trailer
Semi trailer is our company's main product. We configure Grid type semi trailer ,low bed semi trailer, container semi trailer, flat bed semi trailer, LPG tank semi trailer, fuel tank semi trailer, water tanker semi trailer, fecal suction semi trailer, sewage suction semi trailer, compactor garbage semi trailer, van semi trailer, box semi trailer, Refrigerated semi trailer, bitumen semi trailer, bulk cement semi trailer, dump semi trailer, chemical tank semi trailer and etc. We produce tank semi trailer with plastic lining, aluminum tank, aluminum alloy tank, rotational molding, carbon steel, stainless steel, production according to the customer's requirement.
For high volume transport these Vacuum Tank trailers provide a wide variety of options.Available in three series - Carbon Steel MDT Series, Aluminum MALT Series
Vacuum Suction Tanker,Vacuum Trailers For Sale, Vacuum Tanker Trailer,
Wholesale Various High Quality Vacuum Tanker Trailer
Productsfrom Global Vacuum Tanker Trailer Suppliers and Vacuum Tanker Trailer Factory


- See more at: http://www.truckinchina.com/tri-axles-Vacuum-Sewage-Tank-Trailer-28000L-for-export-id563483.html#sthash.gmVouFya.dpuf